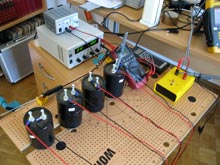 Testing - Our competence comes form experience
Because of our long time experience we provide efficient and competent advisory activity and support. We assist in finding the optimal preparation and planing of tests, test procedures and methods, and help to find the best form for documenting your results too.
We offer support in saving time and costs in product development. Simultaneously you get a maximum output of information from your measurements and test programs.
Planning of Testing Methods and Measurement Activities
Detection of risks, preparation and planning of tests grant the success for your project

or your product. Aims have to be defined, weak points shall be detected early. The selection of proper scale of testing, preparation and planing of tests help to reduce costs for type tests, serial tests of a product.

At the same time the chance for a successful product development or validation process will increase. The choice of the proper scale of testing, methods and documentation will help to reach your aims fast and specifically.
Because of our good contacts with highly qualified testing institutes, we also help to find reliable partners who can carry out tests, or we carry out tests for you.