Special Trains - Mariazeller Museumsbahn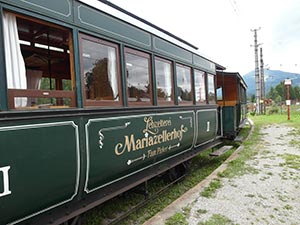 Some kilometer of pure train romance through one of the most beautiful landscapes in Austria. There you can enjoy a few kilometers round trip in old fashioned trains.
A must for every train enthusiast, nature lover and also families.
You go from Mariazell, a famous place of pilgrimage to Erlaufsee, a wonderful lake in the Austrian Alps. There you can have a drink or a walk, a look on the wonderful countryside, and also a small meal in an old fashioned carriage and watch Erlaufsee and then you go back to Mariazell again.
The railway line is built, serviced an run by train enthusiasts.
Highly experienced specialists renovate carriages, old trams or train engines. They do this not only for a very interesting collection of old carriages an tram they have got in their property, but also for costumers all over Europe

Fore more information in German: Museumstramway Mariazell
Click on any image to view gallery!